---
Single Snowdrops (in-the-green)
The Common Snowdrop, a classic harbinger of the start of a new year, bringing joy and hope during the darkest days of winter. Plant them in large numbers where they will spread to form drifts, for a wonderful dreamy effect which will get better every year.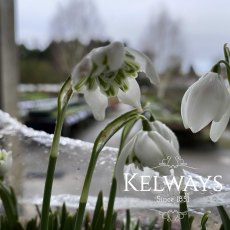 Double Snowdrops (in-the-green)
The Double Snowdrop, has fuller flowers with striking green markings on the petals. Dainty floral perfection, and every bit as easy to grow as the single form.
---
English Bluebells (in-the-green)
English Bluebells. These are the native ones, and have been nursery grown in the UK. Gorgeous violet blue flowers in profusion. Even if you can't plant a bluebell wood, just a little corner of your garden with some clumps of our native bluebells will provide immeasurable pleasure each spring, and the bees will love them!